---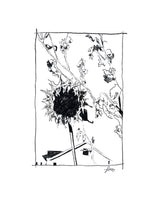 The Last Sunflower - DL
Laura Hunt
The Last Sunflower is a black and white rendition of a winter landscape in my neighborhood. I find beauty in the faded flower and curled leaves against the open sky.
This is a digital downloadable file, for printing at home.
When the transaction is complete, you'll receive two emails, one that confirms your purchase, and another that includes the link connecting to the download page. (They may not show up in the same folder.)
Save the artwork to your computer, and print it out at your convenience.
You may print this image with your desktop or inkjet printer on 8.5 x 11 inch paper. You will get the best results by using heavier paper, the heaviest your printer can handle. You might want to experiment with various colors and textures. 
Works on paper are best displayed and preserved if they have a mat separating them from the glass in the frame. Choose a frame that suits your taste. Once you have it hung, take a photo of it in your home and email it to me. I'd love to see your creativity paired with mine!
© 2022 Laura Hunt
This artwork may be printed for your own use on paper or other items, but you may not make copies to sell to someone else.